Got pretty busy this past fall. Found just enough time to hunt and not enough time to post on here apparently. Figured I'd update how things went in one thread here.
I hadn't shot a deer with my bow since the 2011 bow season so I had an itchy trigger finger to say the least. So I knocked down two does on the first two sits of the year. Felt great to put a couple arrows in the 12 ring! Also these are the first few does we've shot in 4 years. Finally felt like deer #s were getting up there. I think next year we'll take a few more does again.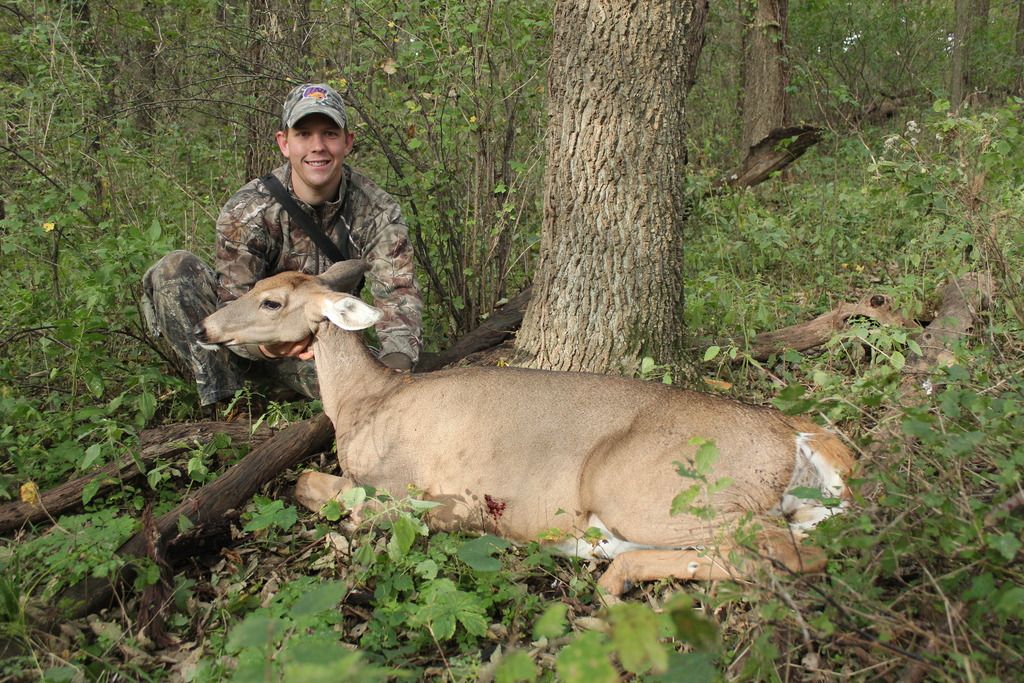 I passed more bucks this year than ever, including two that would've been my biggest bucks with a bow. But it's becoming more about just killing a buck each year. I ended up eating my 5th anysex bow tag and can say I'd had the most fun and enjoyable season ever. Here's a few videos of some of the bucks we saw and some I passed.
Split G-3 pass
https://vimeo.com/144290784
Bulldoze decoy
https://vimeo.com/144309948
Early Nov encounters
https://vimeo.com/145271314
Late November encounters
https://vimeo.com/147336590
On the morning of Nov 7th my brother's wife shot a great 8pt with her bow. The buck came posturing into the decoy and she shot him at about 25yds. The shot was right in the area of the shoulder and I remember Russ texting me "Andrea had a nice 8pt at 25yds, straight shoulder shot him, little penetration". Russ said they waited 30 minutes and with little hope of the buck being fatally wounded Russ went down to get the broken off arrow and check for blood before they each had to head for work. He said he looked down the trail and the blood trail was great. He peaked over the hill and the buck laid dead in the trail not far away at all! To say they were excited would be accurate, especially after being convinced it was just a shoulder shot and the arrow didn't look like it penetrated much.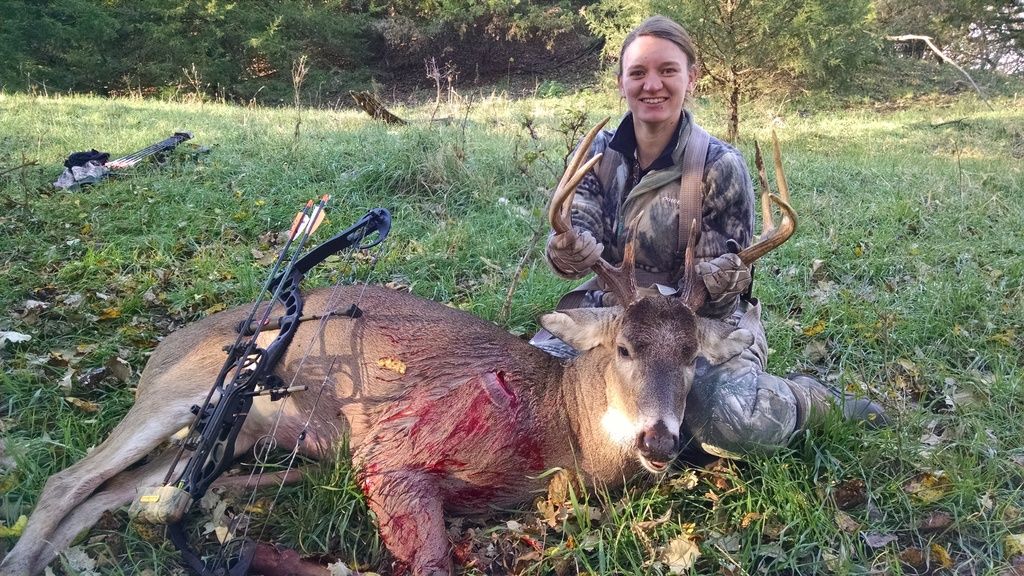 On the evening of Nov 10th dad smoked a 4.5 year old management buck. I remember him texting me while I was at work... "Do we have a big bodied buck that's basically a 7pt?". I responded saying yes we do. He asked if we wanted him shot. I say "Sure!". Dad's response cracked me up "Good... cause he's laying dead 50yds away". Mom was with dad on this trip to the blind with dad and got to watch the whole hunt (all 5 minutes of it). They set the decoy up, got in the blind, and literally within 5 minutes this buck came out of the creek and charged into the decoy.
This year trail cam pics of dad's buck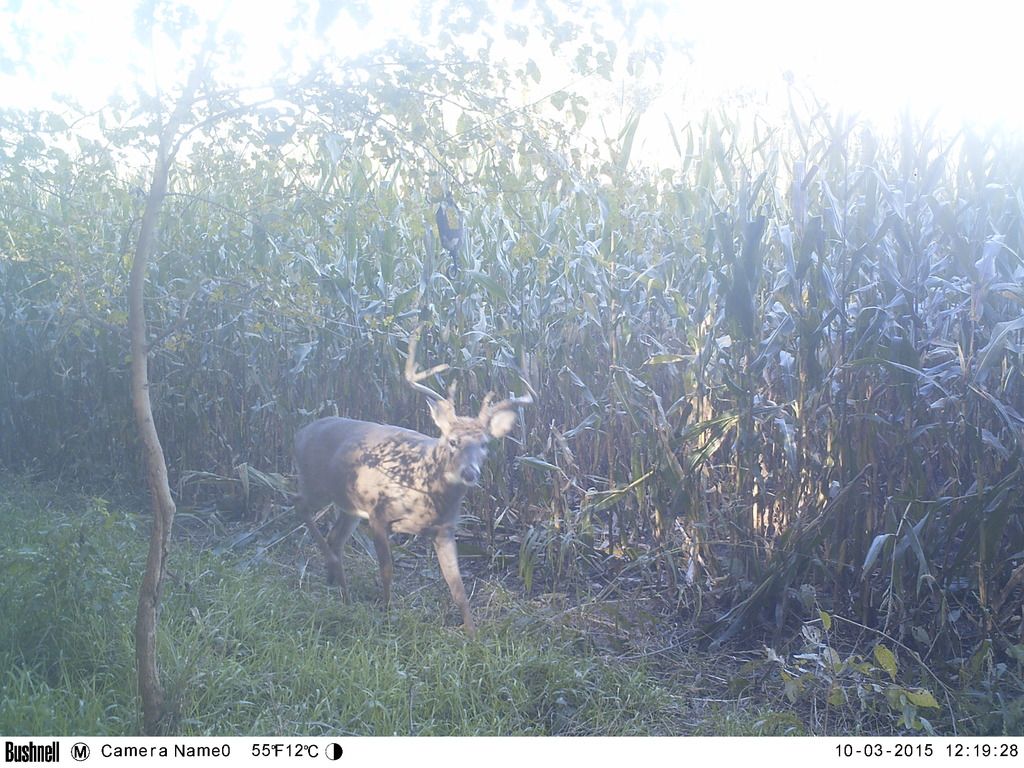 Last year pics of dad's buck, I did find one of his sheds last year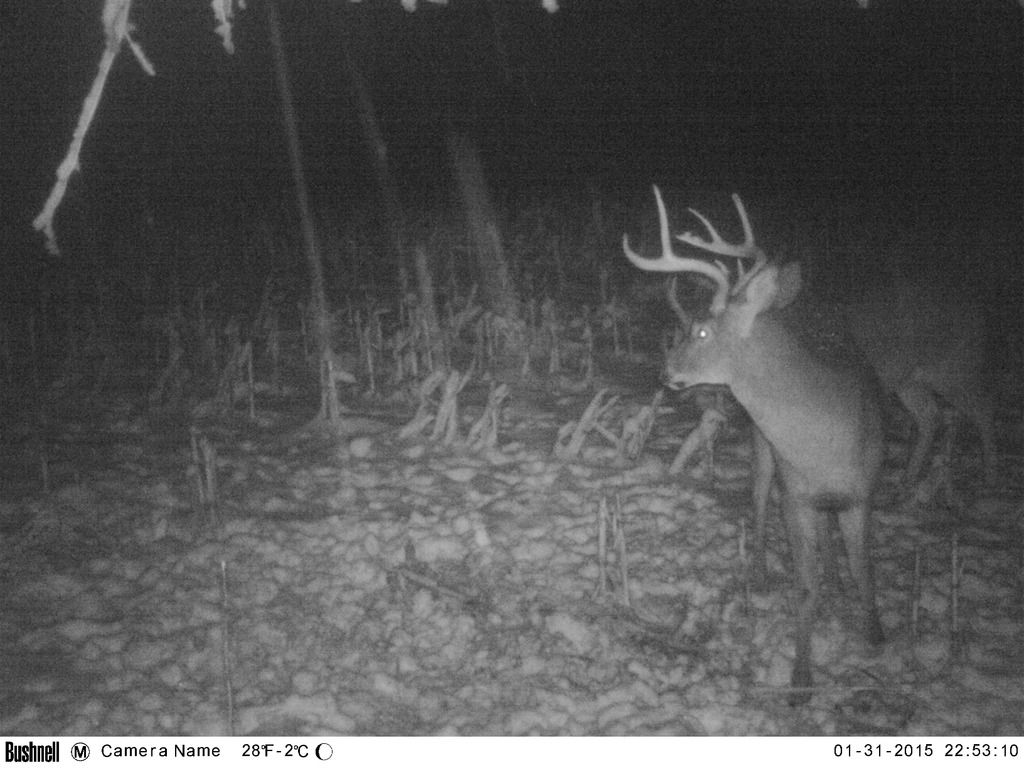 On Nov 13th my future brother-in-law shot a great buck with his bow as well. Him and my future father-in-law had been hunting hard for nearly a week and had some awesome encounters but couldn't seal the deal until this buck came by. He got smoked at 20yds!
I realize that this post is getting pretty long but the best to bucks are for last. Russ smoked this buck in late November (our new favorite time of the rut to hunt) and is gross scored the buck right at 155 as a clean 10. 3rd largest bow kill of anyone on our farms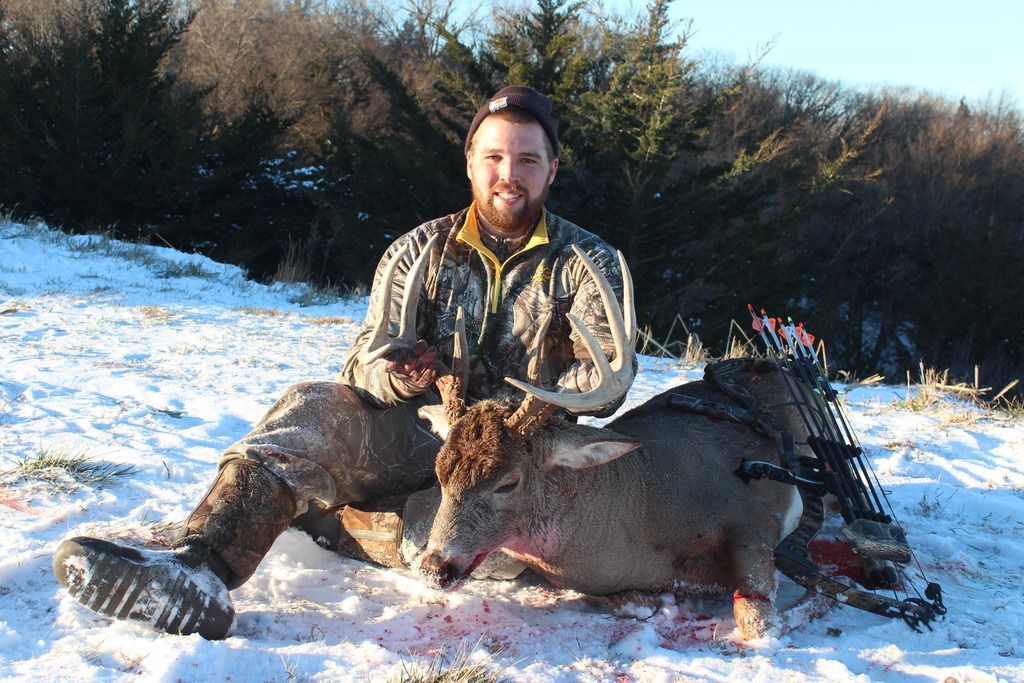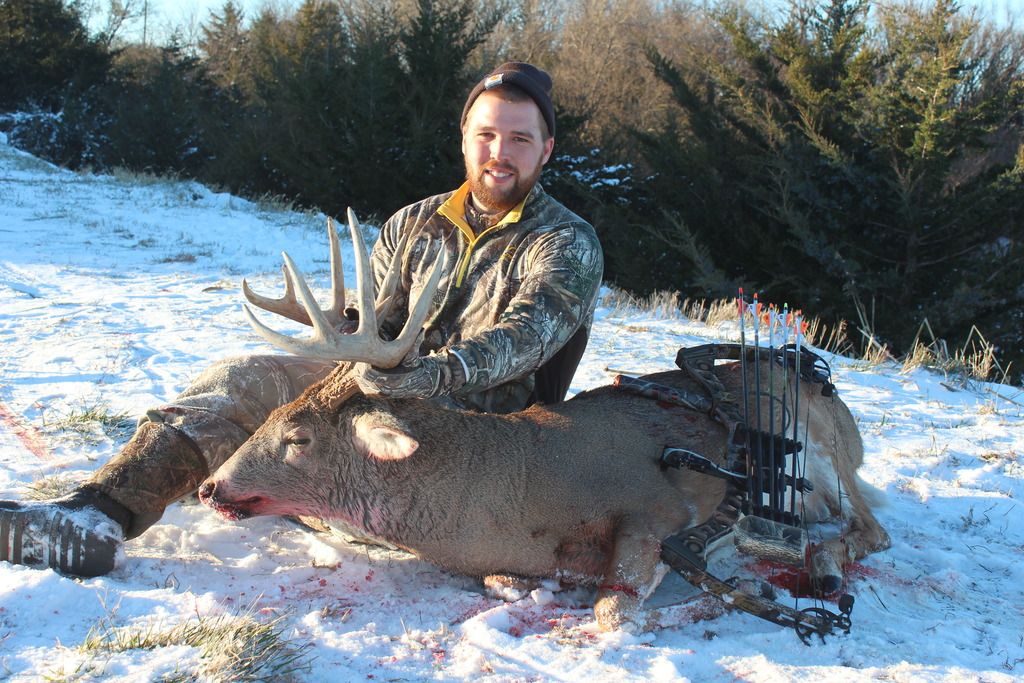 2.5 - 2012
3.5 - 2013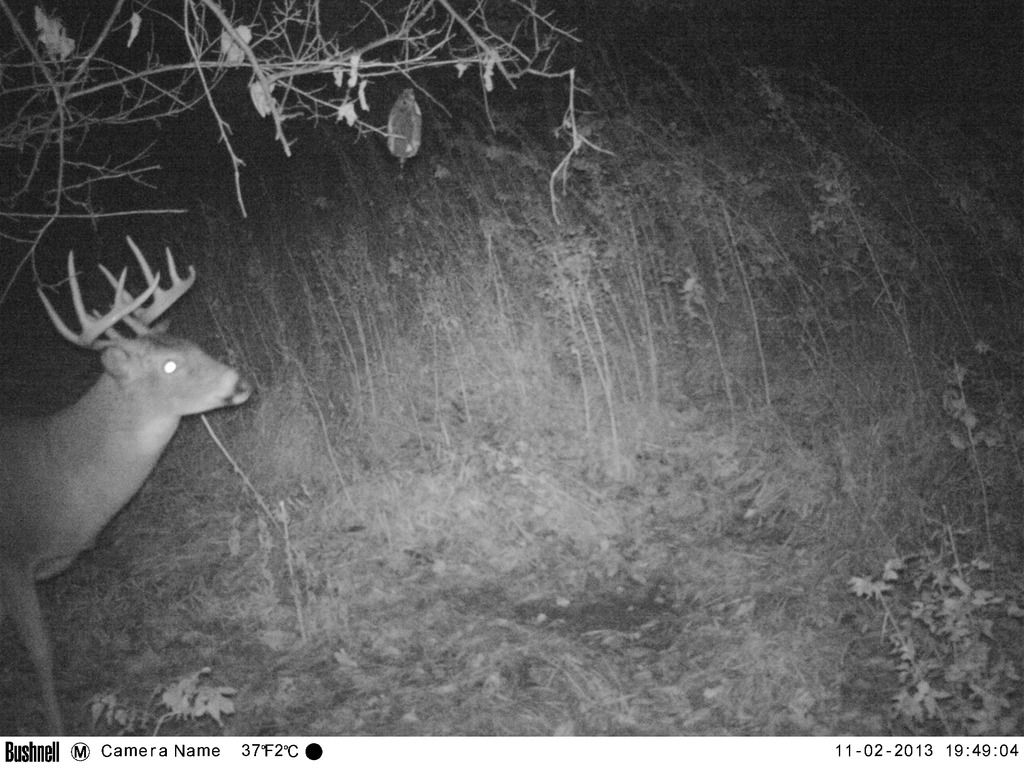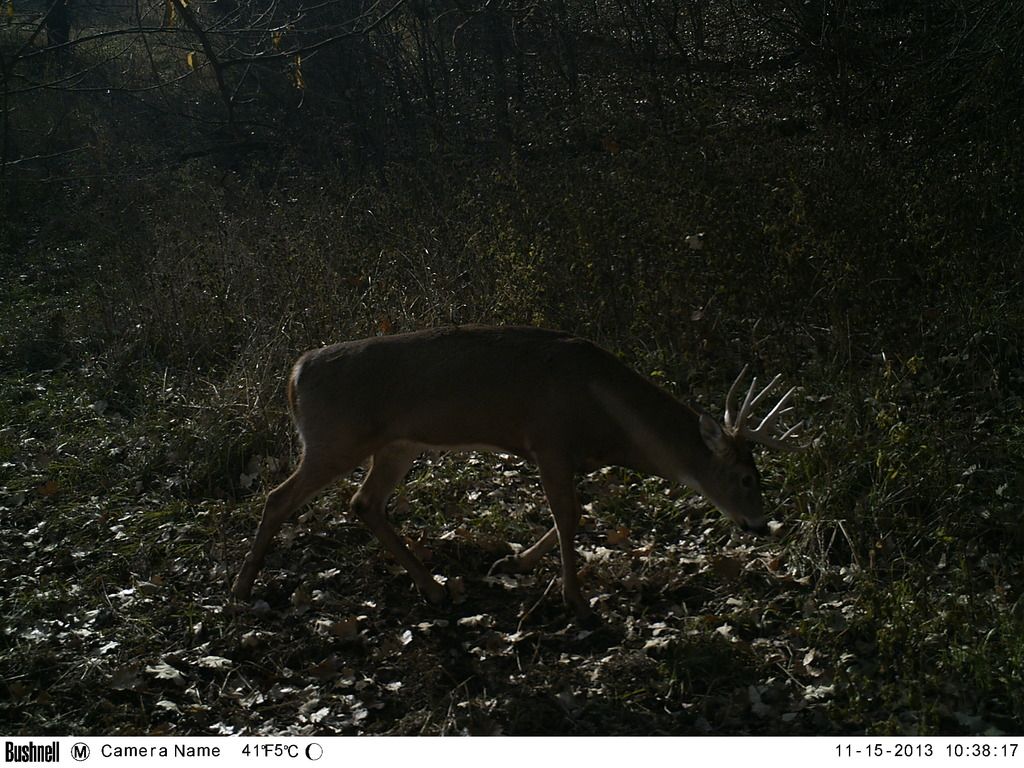 4.5 - 2014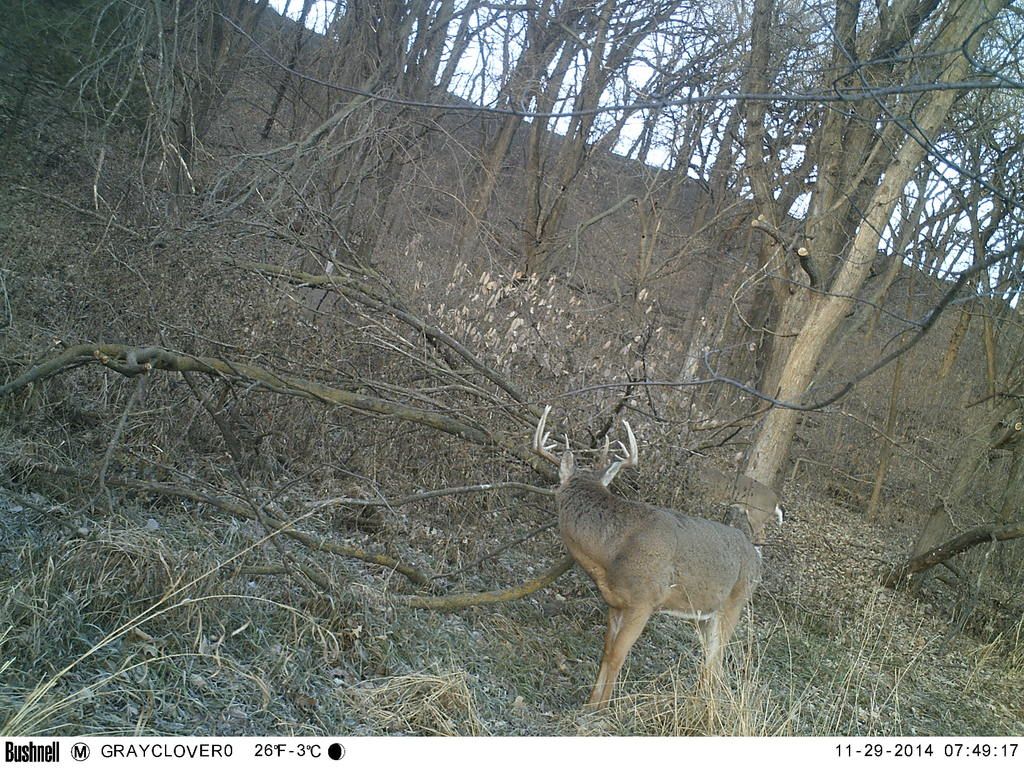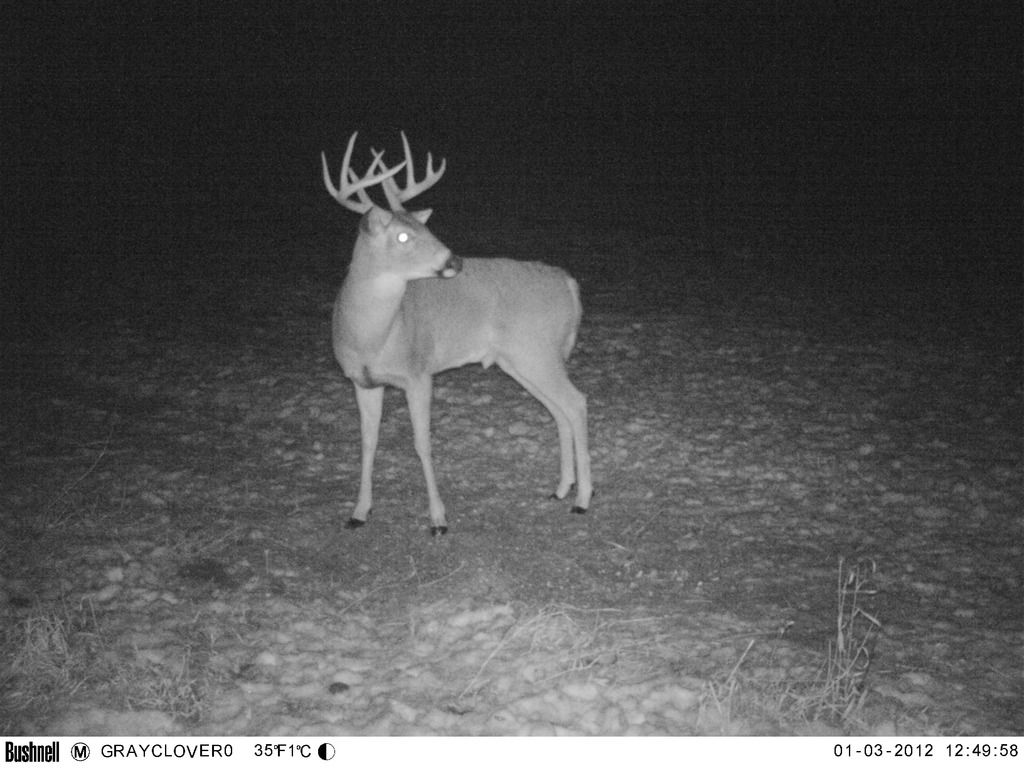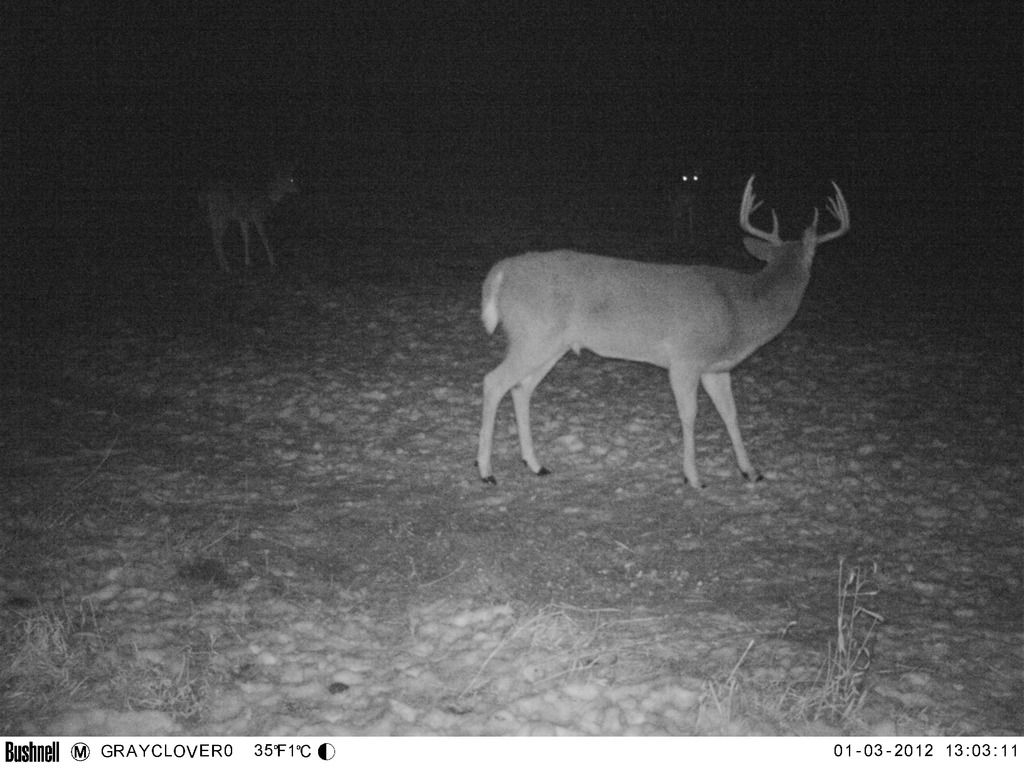 5.5 - 2015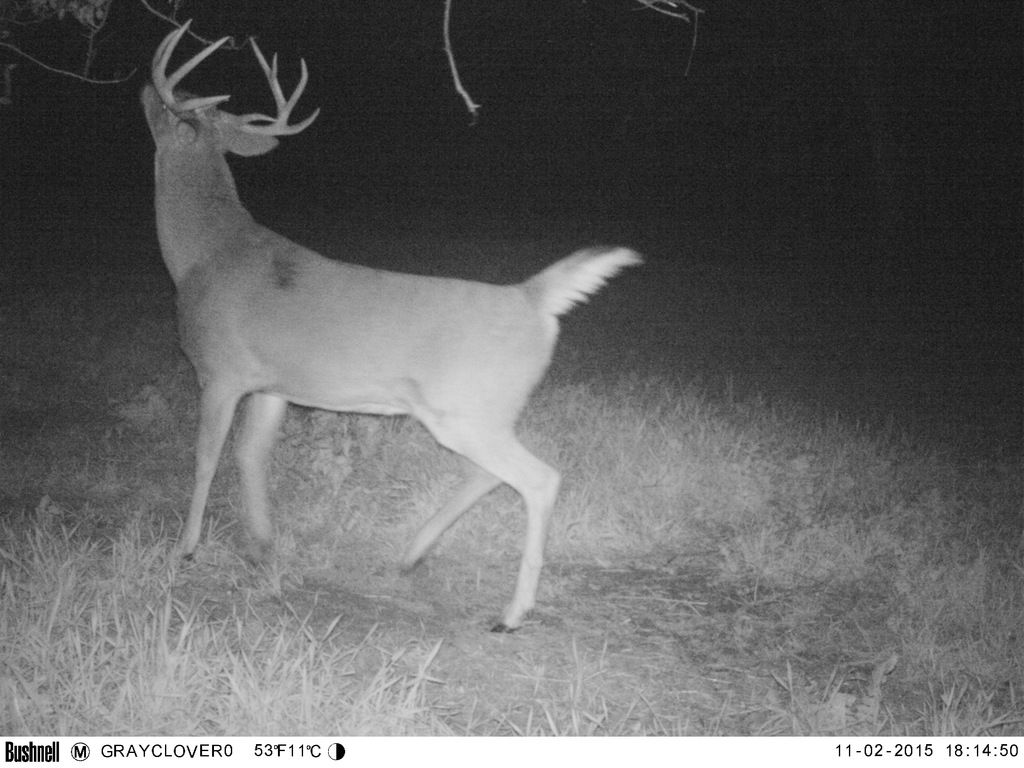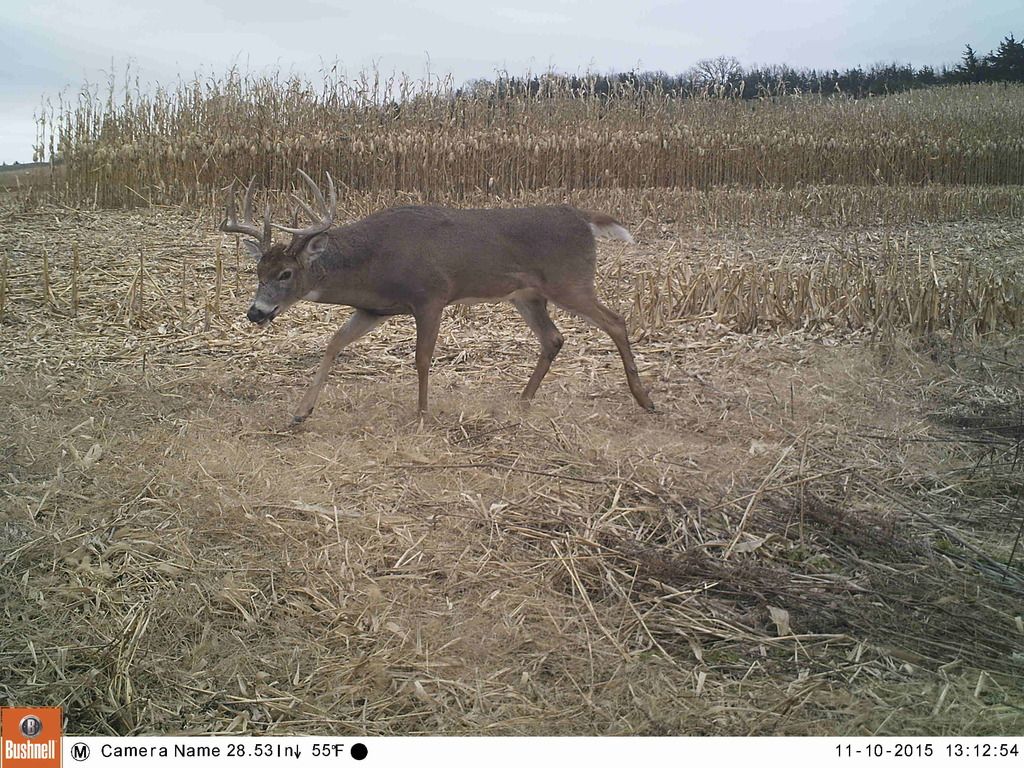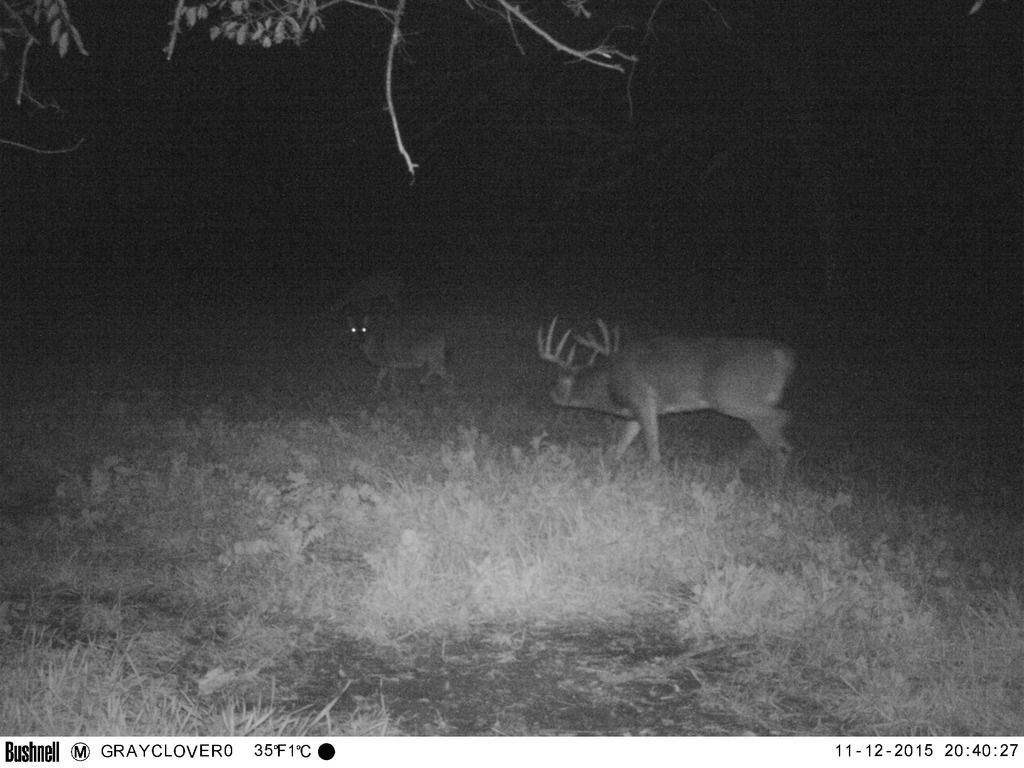 His bow buck next to all its sheds from the past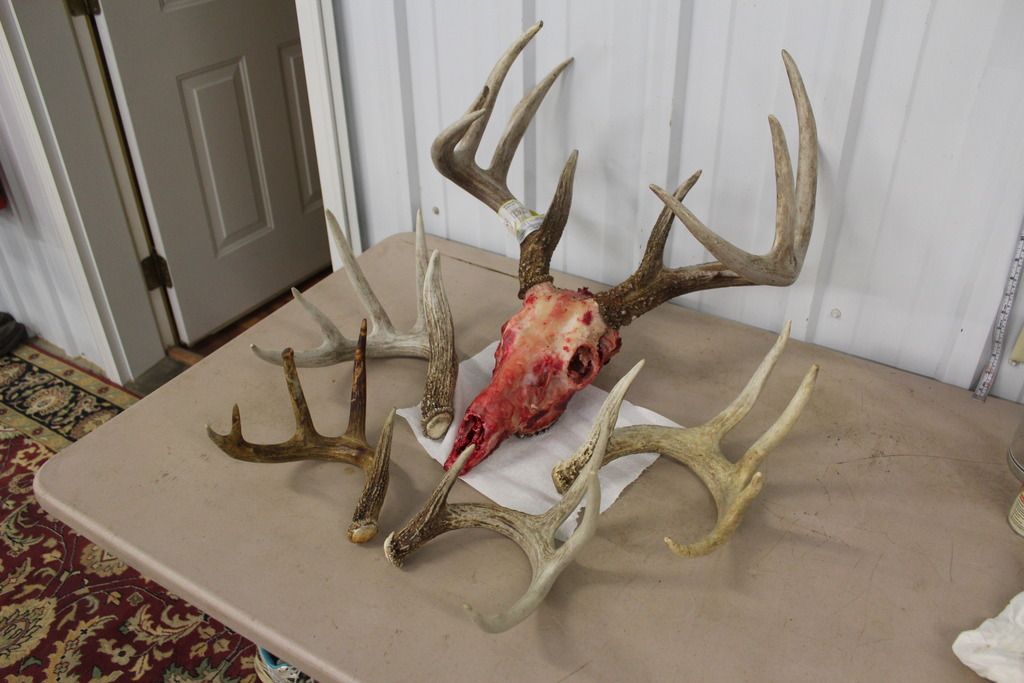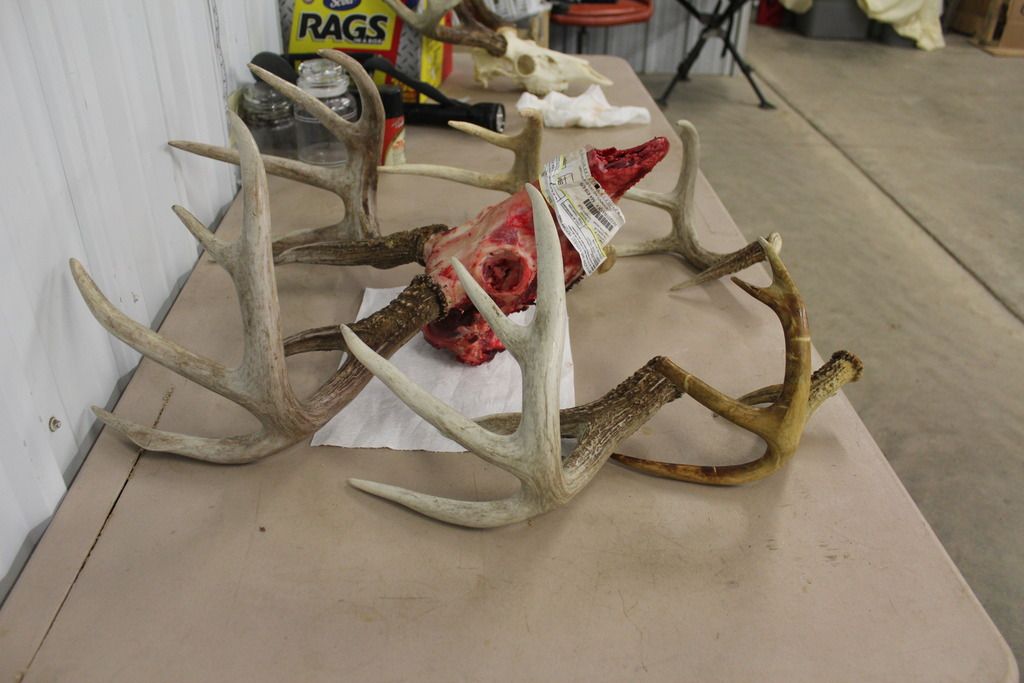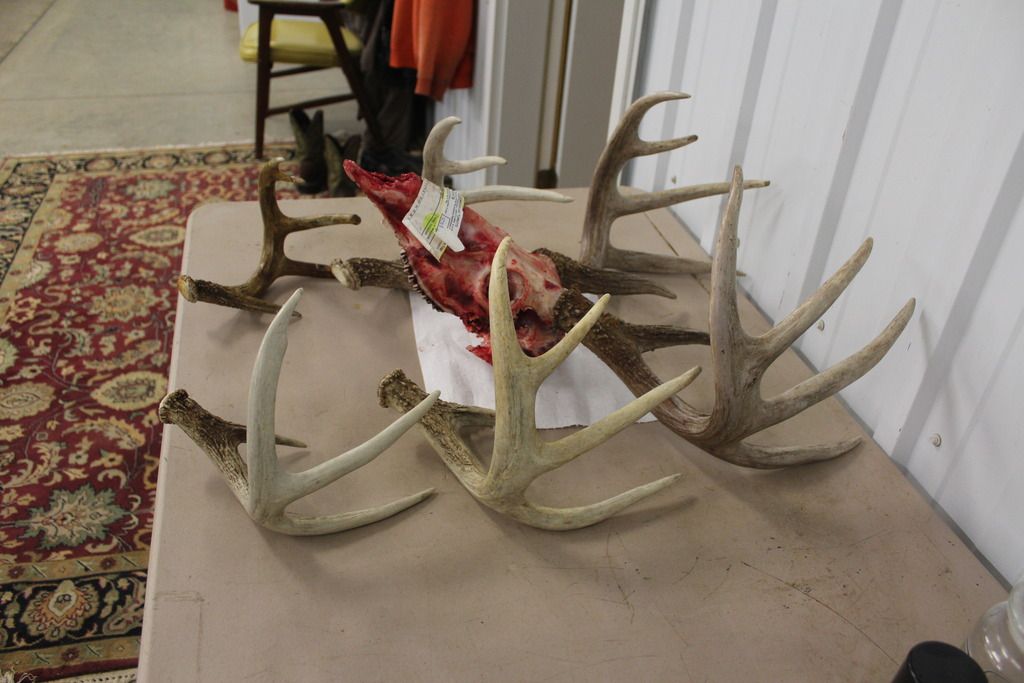 2nd shotgun season I had a doe tag in my pocket and filled it on a morning hunt. She was a big ole gal!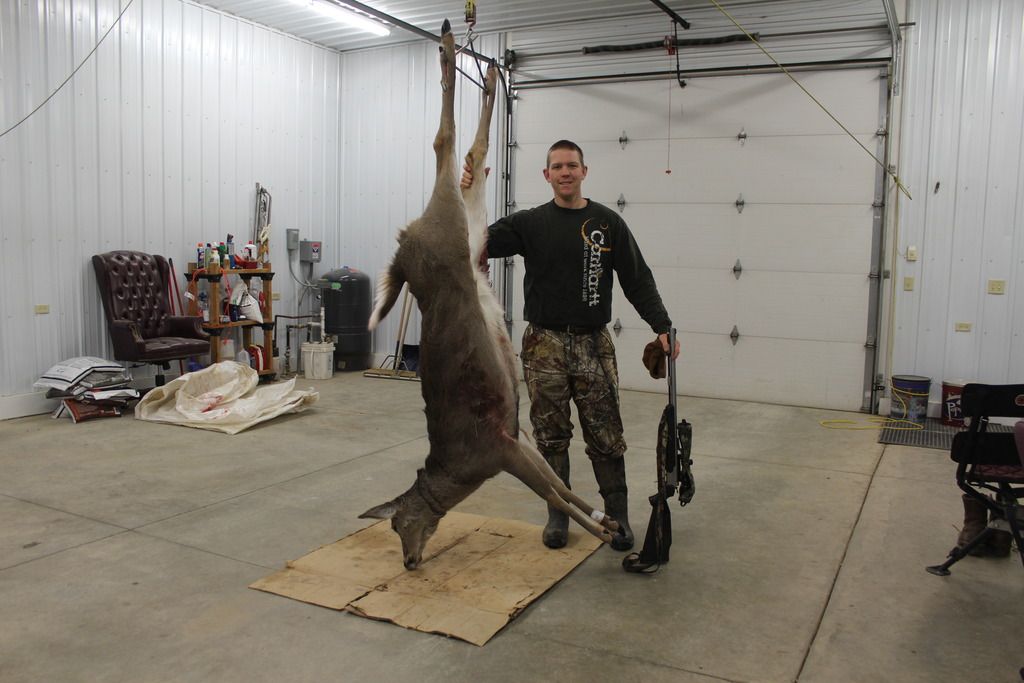 Ok, last one... Russ tagged a buck on his first night out Late Muzzy hunting. It was one of the 5.5 yr old bucks we've been wanting to get after all season but just never took much time. Dad hunted this buck a couple times 2nd gun season and Russ went in once during late muzzy and found him. 150yd quartering-to shot and the buck was toast!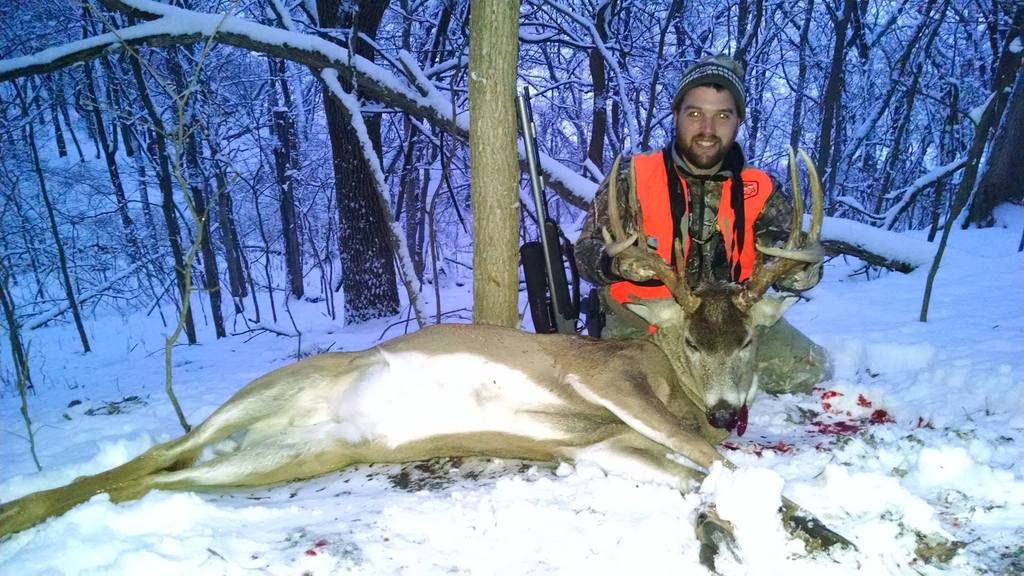 2014 - 4.5 yrs old we are guessing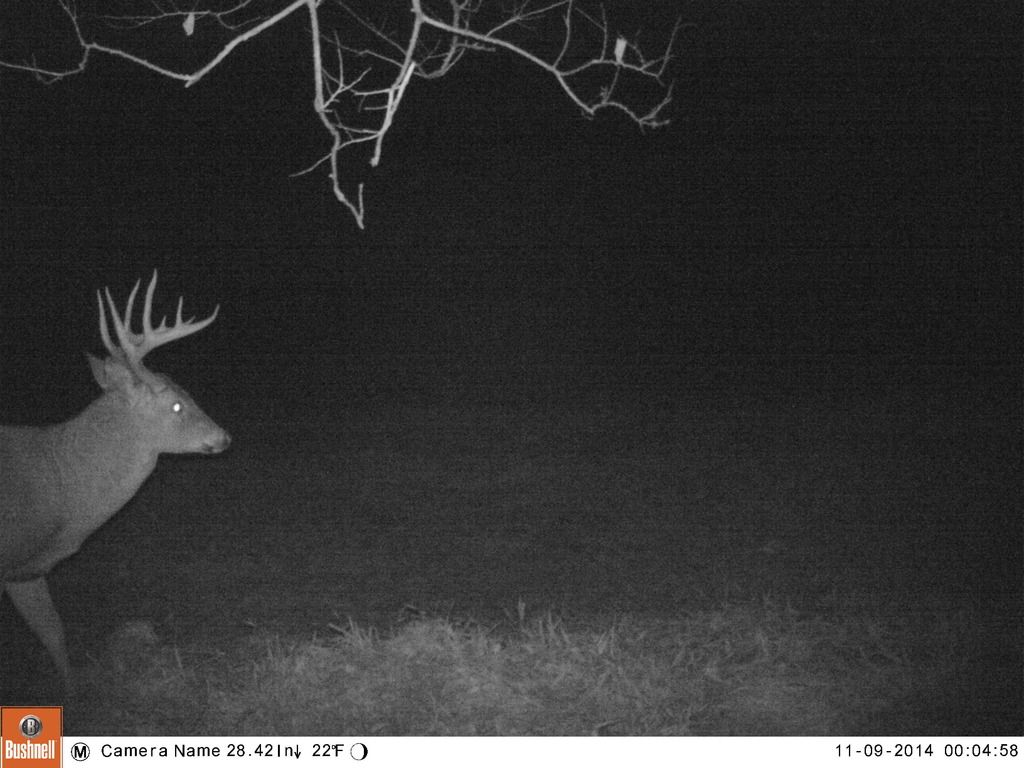 2015 - 5.5
Those Barnes ML bullets are phenomenal. You're missing out if you don't at least try them! Here you can see how the bullet opened just inside the skin on that front shoulder. Notice the small bullet hole on the skin vs the huge wound in the shoulder. Those 6 pedals you get when the bullet open are sharp and just eat up whatever game you shoot!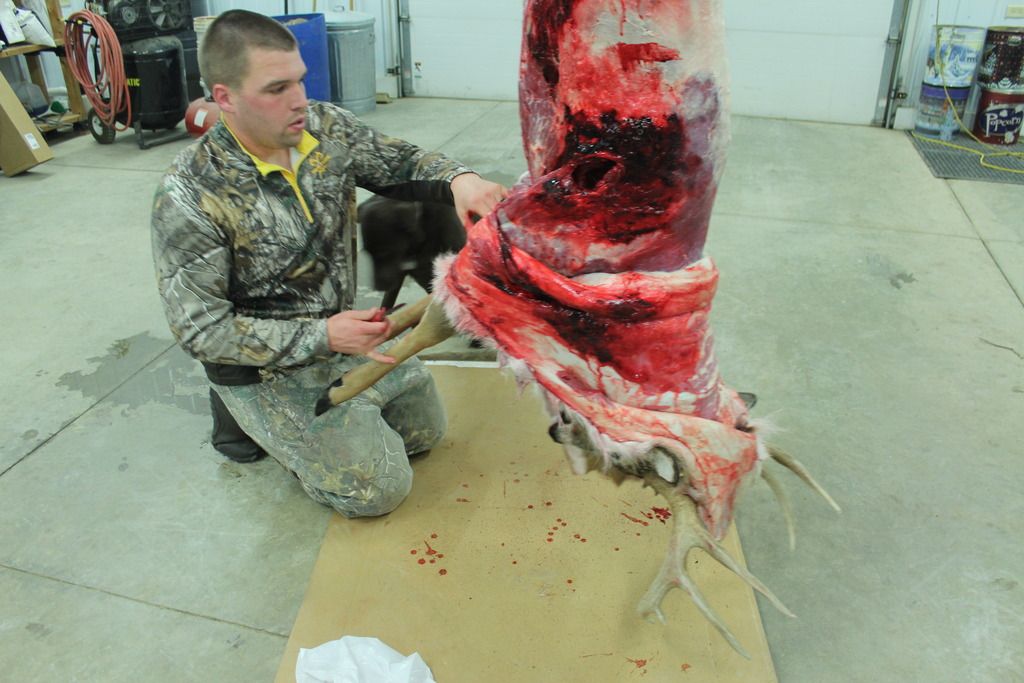 The buck ended up scoring 145", which surprised us. We didn't think it'd hardly break 130. But the character on him was awesome. Great mass. Just under a 6" base on that left side