I typed this at the end of season last year, and just never posted it. Had some crazy life stuff happen right about the time I typed this and then forgot about it. Came across it the other day and figured as season approaches it was a good time to share the story of these great bucks. Hope you guys enjoy it.
A little long winded but it was definitely an up and down season in 2022 and thought I'd share a story about two incredible deer. I knew there should be a couple good bucks to get after, I had passed several good bucks the previous year, and even though there is some rifle pressure in the area the 2021 rifle season had cold temps that kept the crowds from coming out and very few 3- and 4-year-olds were killed last year. 2022 summer put a damper on my plans as food plots all failed as we were in the middle of a terrible drought(still are), on my home farm all clover and bean plots died, on a neighboring farm I hunt the farmer doesn't plant corn, so again no food, barren dirt fields. He got a stand of beans in a 30-acre field, deer ate completely into the ground as drought stalled them out and pressure was just too much. So, where I usually get a good inventory wasn't happening and deer had dispersed out of normal areas because of food and water shortages.
So as summer progressed, I really wasn't overly excited, had one decent buck that was common on a short bean field but disappeared after the beans where grazed off, expected they all relocated to farms with corn, so I just had to wait until harvest kicked off and deer to start moving back to home farms and hope that fall rains came to get wheat up and going. On top of that some "life" things came up and time to scout and prepare became hard to find. As season approached, I didn't really have a target, but I did have some faith that something would show because of the previous year and the amount of ground. Little did I know that a giant that was soon to make his existence known.
Late October still had nothing, and instead of hunting one Sunday morning I went driving around, it was cool, and deer were moving, about 9am I drove past one of my farms and bam, a monster is standing about 70 yards off the road, he stands there just long enough for me to get binos on him for a split second. He ran off and then my mind started playing tricks, was that deer really that big?! Maybe I am overestimating what he was, if he's as big as he looked, he might go over 200", unbelievable mass, and lots of stickers.
I drove off, mind reeling, thinking about which cameras I was going to relocate, where I was going to place them, maybe made it a mile and look out across a just wheat field, and there is another slammer! Only just a typical, he was a long way off, but I was able to get a little video of him. He was on a farm I can't hunt but he's out in wide open and my cover is closest heavy cover, so I knew there was a chance he would also show up on a farm I could hunt.
So here is a still shot of the video I took of the typical.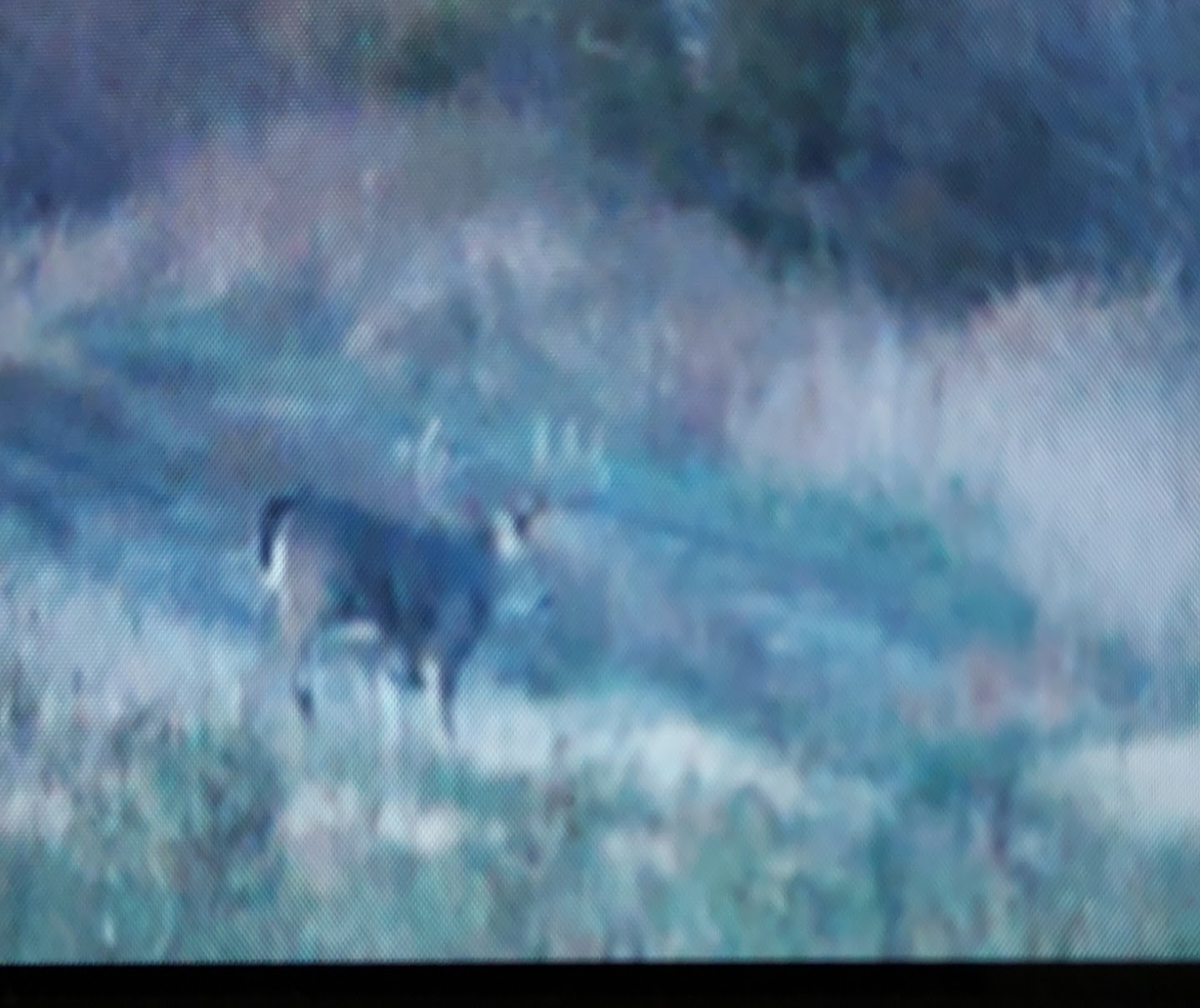 That afternoon I got cameras placed, started thinking about moving some stands do to crop situations and even though I felt like I was late to the game, I was getting something going. As luck would have it, we finally caught some moisture which got crops up on my farms and started a dramatic increase in deer numbers.
Soon I caught my first picture of the non-typical. And well he was big, not as big in the picture as I first thought, but big, and soon the typical also showed up. Got work schedule figured out best I could and got stands situated to take advantage of non-typical- 1 sighting and 2 pictures in same location, all daylight. Slipped in a hung a stand at night in the rain and felt like with enough time I should catch him.
First Trail Cam Photos I got, really doesn't do him justice: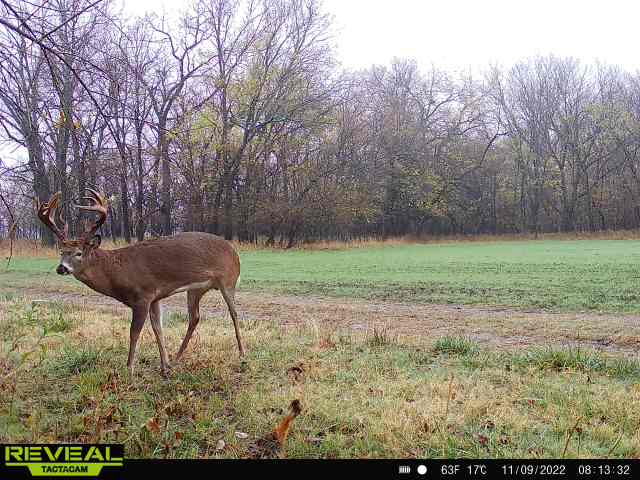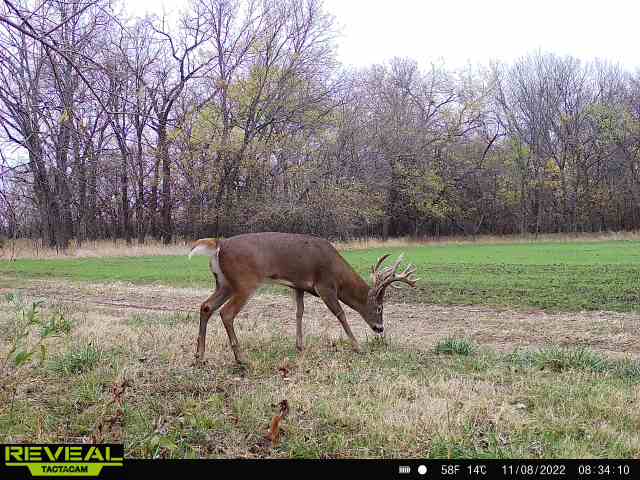 Unfortunately, my hunting kicked off on the 11th for 10 days. I wished I could have hunted earlier but work and other schedules prevented me from getting in a little earlier. Also, by this time I had heard a guy hunting on neighboring property had seen non-typical (and stupidly sending photos and telling people), he had a feed field but not much cover, but was stacking a ton of hours in there (works a 7 on, 7 off job and no kids-He had a little more time than I). Regardless, I wasn't spending a ton of time in the typical' s area and was staying on the non-typical but at this point, Typical was way more active, and I thought he was a really good deer. Then on the 14th I caught the non-typical on a small alfalfa field that had greened back up from moisture, really needed a south wind for that field, finally got it and slipped in. By this point we were smack dad in middle of lock down and pictures of bucks had really slowed. The night I was able to first get in on alfalfa field it started spitting snow and the typical showed up locked on a doe, realized I 100% would shoot that deer if given a chance. Couldn't get anything done with him that night as he wouldn't leave doe.
Kept adding up hours in the stand and even though was seeing a ton of deer wasn't getting on the 2 I wanted. The on Saturday the 19th I got my chance at the typical. I had got in a stand that set at the back on a long skinny hay meadow, and the deer have a tendency to come out in, as it sits next to some thick bedding. As daylight breaks the typical comes across field from behind me, walking parallel to my wind heading towards cover. Although there was also a few does he didn't appear to be following them, so I felt good about the situation. Knowing the farm and how things lay I felt I had a good chance for him to come my way and I didn't try calling as he would easily be able to go downwind. He entered the brush about a 150 yards North of me, soon a string of does and young bucks were working their way through, then a decent 3 year old came out but was acting a little nervous looking back, the typical stepped out at about 30 yards, and then went to circle downwind of other buck, and presented a less than 20 yard shot, and as I squeezed the shot off, nothing happened, bow release didn't fire, as I went to let down, it popped, buck went almost nowhere, just to edge of timber and looked, I thought it was a clean miss, then seen some blood on his back hock. Didn't act scared or hurt, and just started wondering around like he was looking for a doe and worked off. Don't know where I hit him, trailed him for 400ish yards 4 hours later, but just some type of muscle hit, I never caught him on camera again, I was absolutely sick. I shoot a thumb release, and set screw had worked loose, as I squeezed the thumb knob just rotated versus releasing, I must have bottomed out and when I went to let down, I put enough pressure on to fire it…. but it cost me a great deer. It was bound to happen, but I have never lost a big deer due to a miss or a bad shot…. Still salty over it.
The Big Typical, photos were in same field I had my shot at him: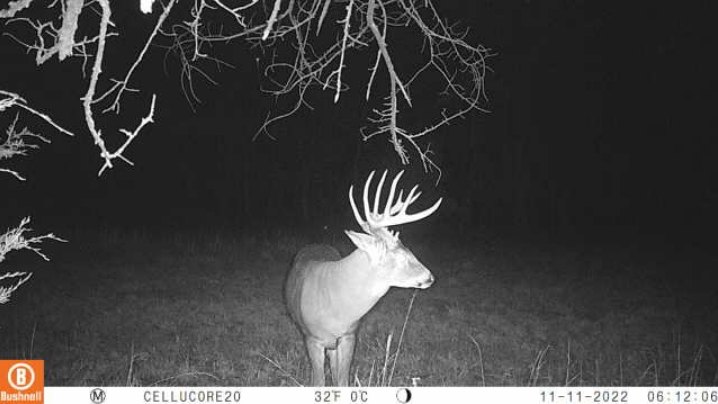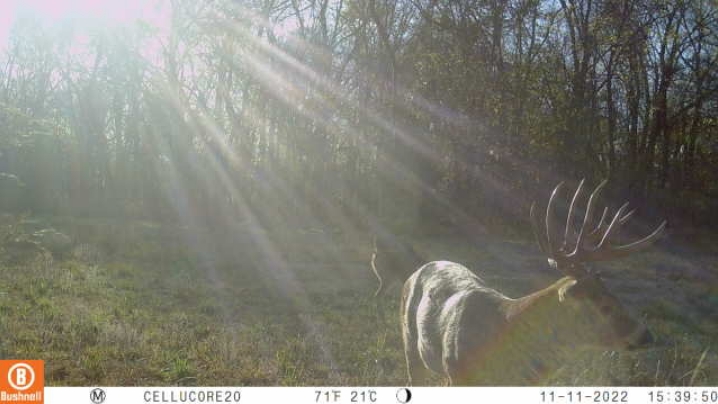 Green dot was stand, this was rough blood trail. Ended up stumbling on blood to the west about 100 yards and trailed him longer, but by this point there was no substantial blood.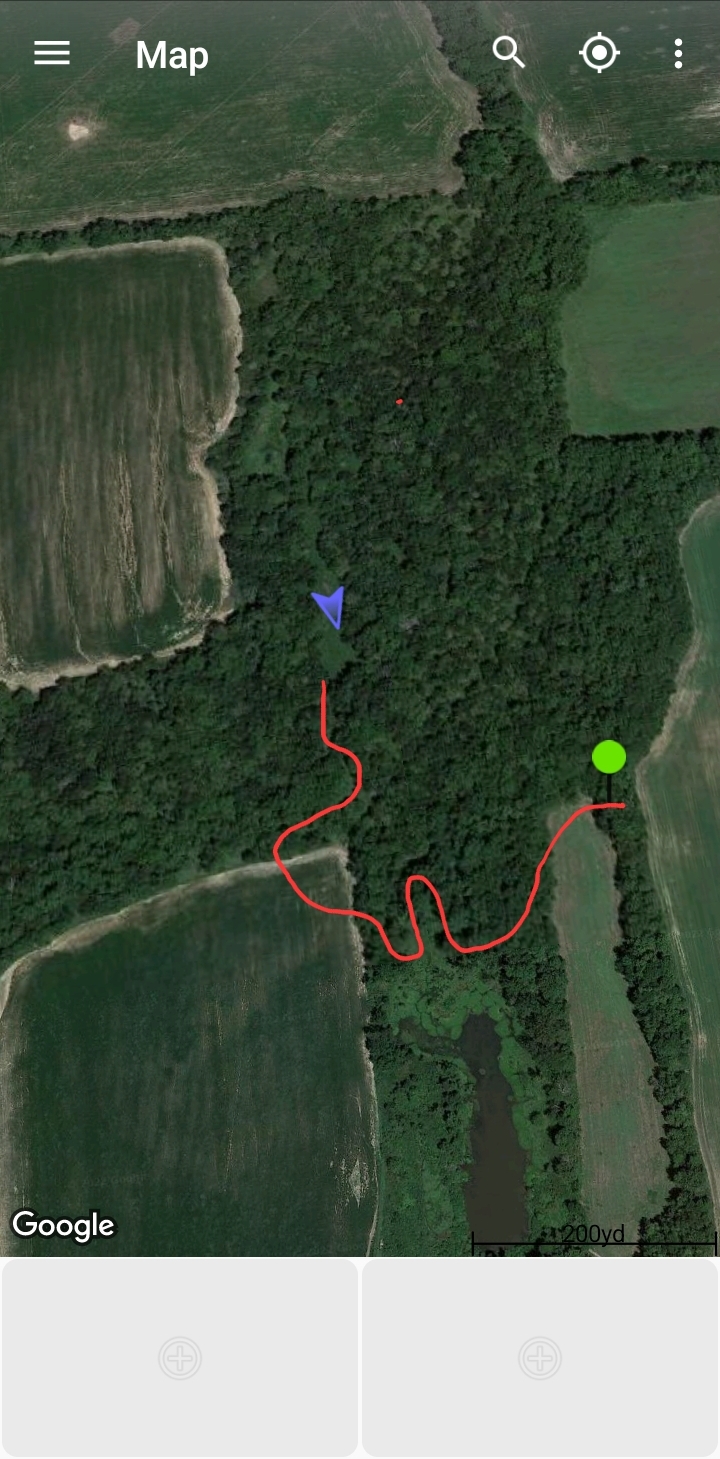 Didn't have much ambition but I was back at it that evening, on the west side of farm after the non-typical. Nothing else to really tell about it, never got him, never laid eyes on him from the stand. The landowner allows family to hunt during rifle season, they hunt out of established box blinds, first 8-10 pointer they see is usually dead. As it was this year the older gentleman hunting this farm never fired a shot. So, I was eagerly waiting for rifle season to end, as the non-typical was showing up back on the alfalfa field, which is in middle of property, but he was being a daylight walker, so I was scared he was going to get shot. I went and put corn out and check batteries on camera, he was standing in middle of alfalfa field at 1:30pm. As rifle season drew to an end, he had 3 days to survive-Friday and the weekend. The pictures I was getting during rifle season made him look as big as the first time I saw him, same as when he was standing in the middle of the field-he was an outstanding deer. Late season bow was starting to look promising!
Some of these really showed how big and massive he was.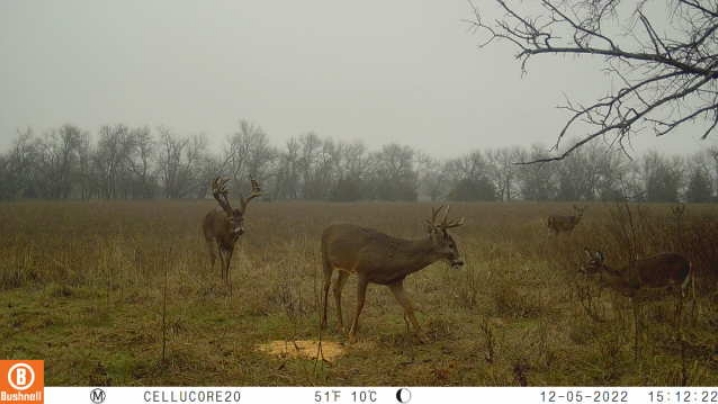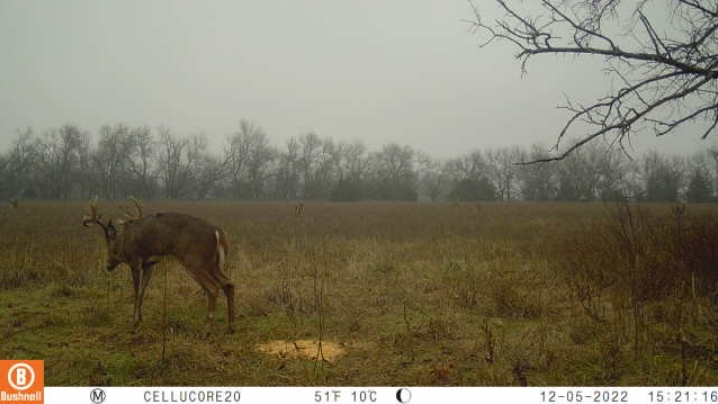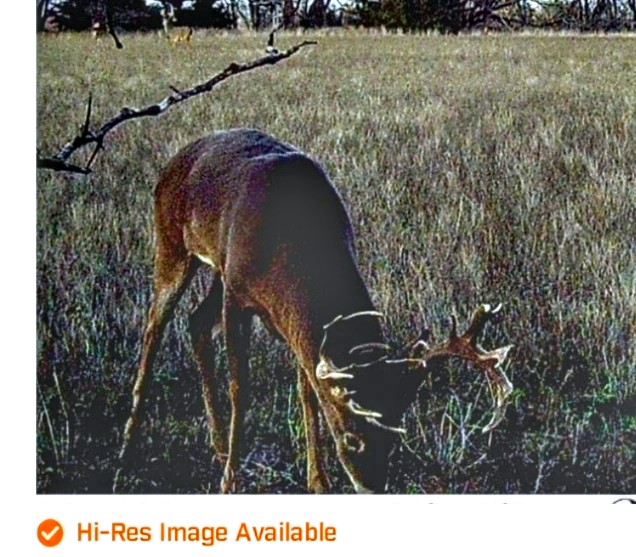 He got killed Friday morning, the 9th of December……
The guy that shot him put in the time, so nothing against him, I had the better farm, maybe I hunted too conservative, but he definitely had more time available to chase him. The deer was bigger in person than even the pictures portrayed; the mass is just incredible. He was grossed out at just over 209" as a main frame 8 with over 46" of mass and netted just shy of 194"-Incredible deer. Where he came from is a mystery, neither one of us had pictures of a deer with stickers from last year, he looked and acted like a younger deer, his body was tiny, walked in daylight, ect. The guy that shot him had one picture from 2 years ago that could be him, he looked like a 2-year-old, main beams had same look to him, a couple small stickers, but not sure.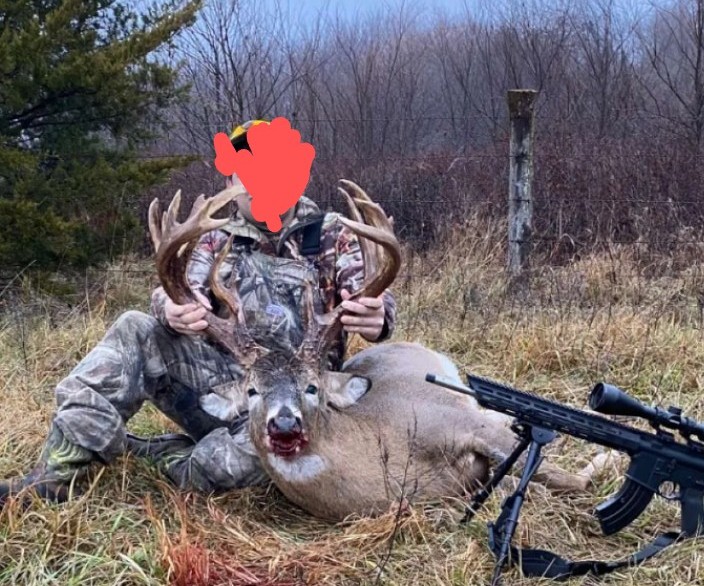 Then to finish out the story of the typical….. No story really, out of state guy that leased next to where I first seen him shot him in hay meadow on Saturday December the 10th. Got one picture from neighbor who knows the guy. 2 more days and he would have survived rifle season. After the bad shot, I never had another picture of him.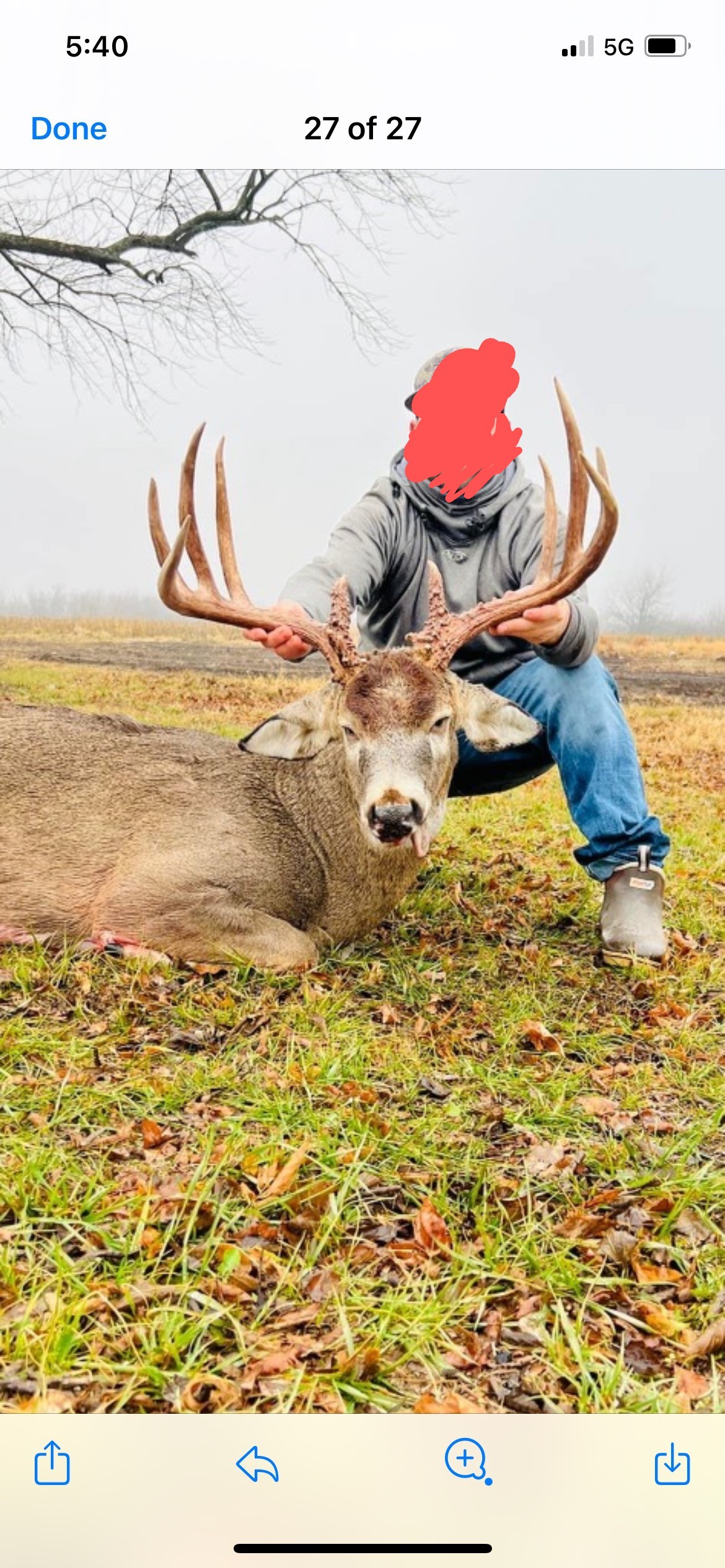 I don't know what the typical scored, but should have been B&C, so that made 2 B&C class animals within a mile of each other, I didn't connect on either one, but was exciting every time I was in the stand.
I guess my only saving grace that is keeping me sane is a beautiful 6x6 that has mainly lived on my property all season, he appears to only be 3 and survived the season. Give me something to pursue next year as he should be a monster! With the way this season went I doubt I will pass a 4-year-old next year!!
A couple photos of 6x6 in velvet, 100 yards behind my house.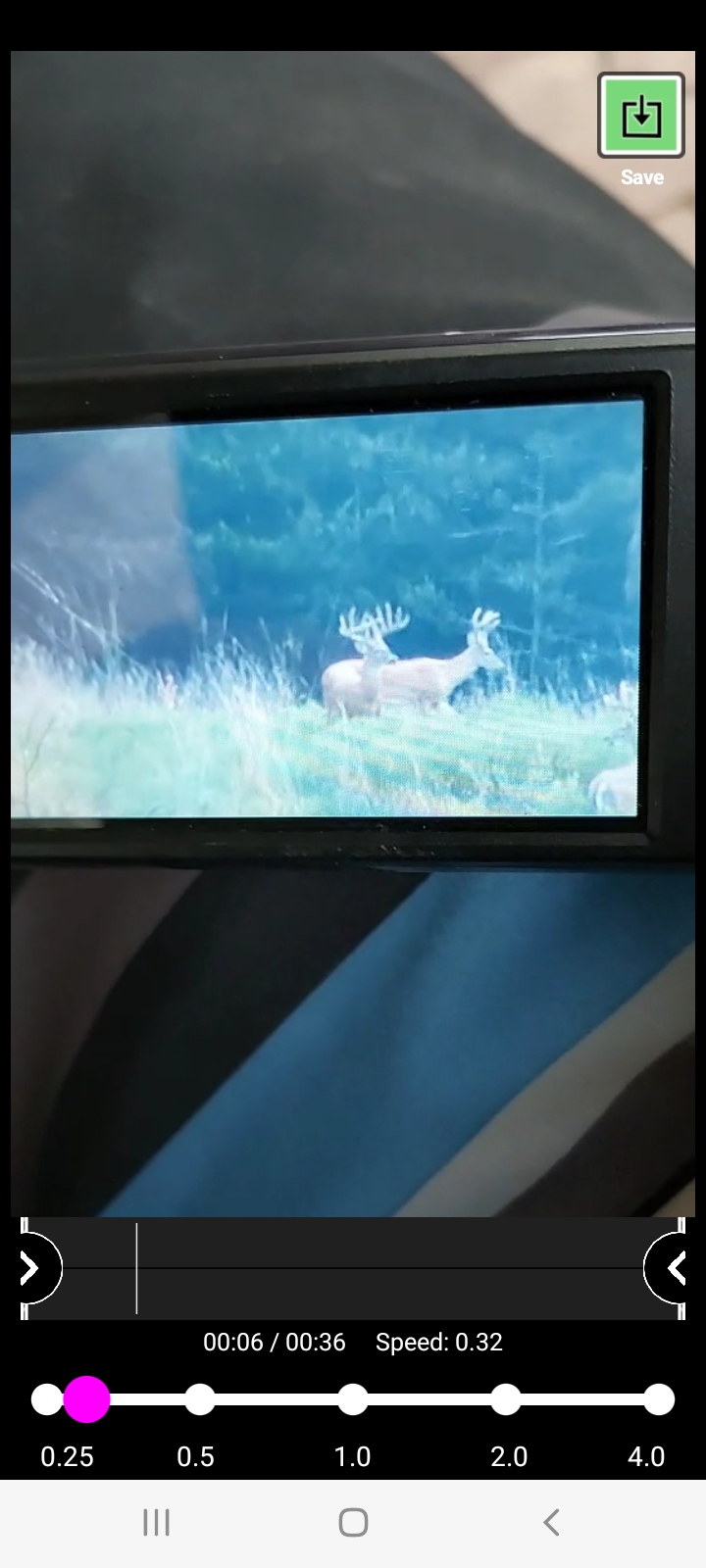 A photo my daughter took out of the living room during snowstorm on 12/22. That gate post is about 25 yards from my house.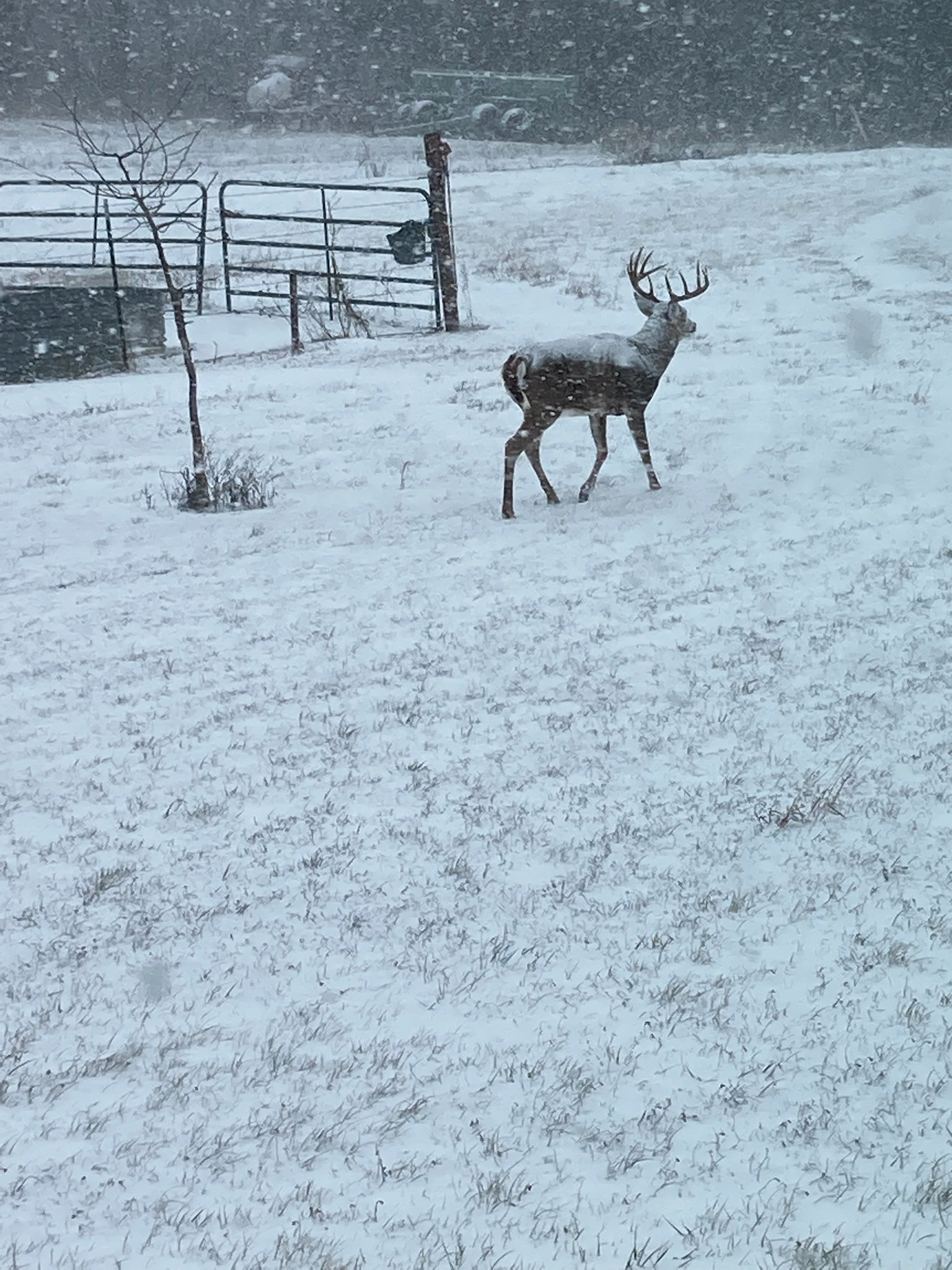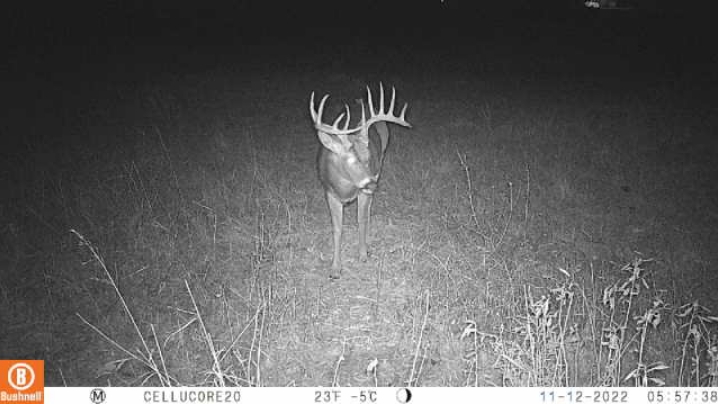 I should say that I am happy to live in an area that has good genetics and could pursue deer like these, just wish I could have capitalized on the opportunities a little better!!
And nail in coffin, guy that shot the 200", posted the deer EVERYWHERE….. He was hunting on permission, as was I, as you can guess the farms got snatched up and I lost this farm and he lost his. The 6x6 is on my personal 120 acres, so i still have him to pursue in 2023. I couldn't blame my neighbor for leasing it, it was around $30,000.