Several of you have been bugging me to get some pics and stories from my Turkey Season up for some time, I apologize for the delay but we have been so busy between work and putting in plots that I haven't had much free time. So here goes.
We did our annual boys trip out west again and once again put the hurting on the Rio Grandes. We picked up some additional private ground this year and I have to admit it was one of the most beautiful spots I have ever hunted. The morning that we killed, a buddy and I setup about 150yds from a bird that was all sorts of fired up. After an hour of playing the game he decided to head the other way and we decided to make a move. This area was fairly easy to move on birds as we could get on top of the large bluffs and look down into the valleys while being covered up by some large pines. After 30 minutes or so of doing some spotting I ended up seeing a large group of birds about 1/2 mile away. Joel and I slid off the bluffs and down into the bottoms they were in and decided we were going to put a double fan stalk on them. As we peeked over a little hill we were met with 25+ redheads, 3 of which decided it was time to take action and did the mean run right to us. When they got to about 3 yards we let the front two birds have it, and we were on the board with a pair of limb hangers.
My bird ended up going 24.5lbs with a 10 3/4" beard and 1 1/2" and 1 3/8" spurs. Ended up being my best bird of the year.
You can sort of see the country we were in, truly God's country in the big Oak bottoms surrounded by some monster bluffs.
My second bird was a bit more traditional. After stepping out of the truck midday, I hit the mouth call and was greeted by gobbles in 3 different directions. My brother and I scrambled to get setup, hit a few soft purrs on the Ghost Maker answered by some close gobbles, and a few minutes later my brothers says "right here he is sneaking through". Next thing I know 2 toms and a Jake pop out, proceed to the Avian X Jake and only the one Jake left. Two days, two doubles was pretty hard to beat. These two birds were standard 2 year olds, with 9" beards and 3/4" spurs.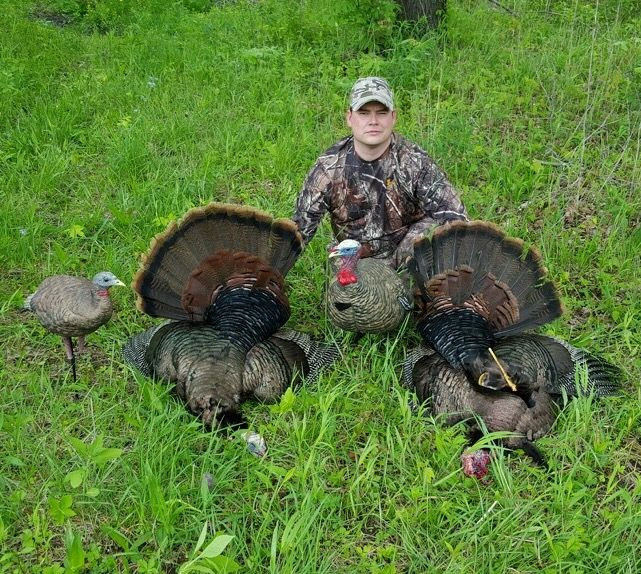 During this time all the other fellas were filling tags and by the morning of Day 3 we had filled them all. Hero Shot at the end of the trip!!!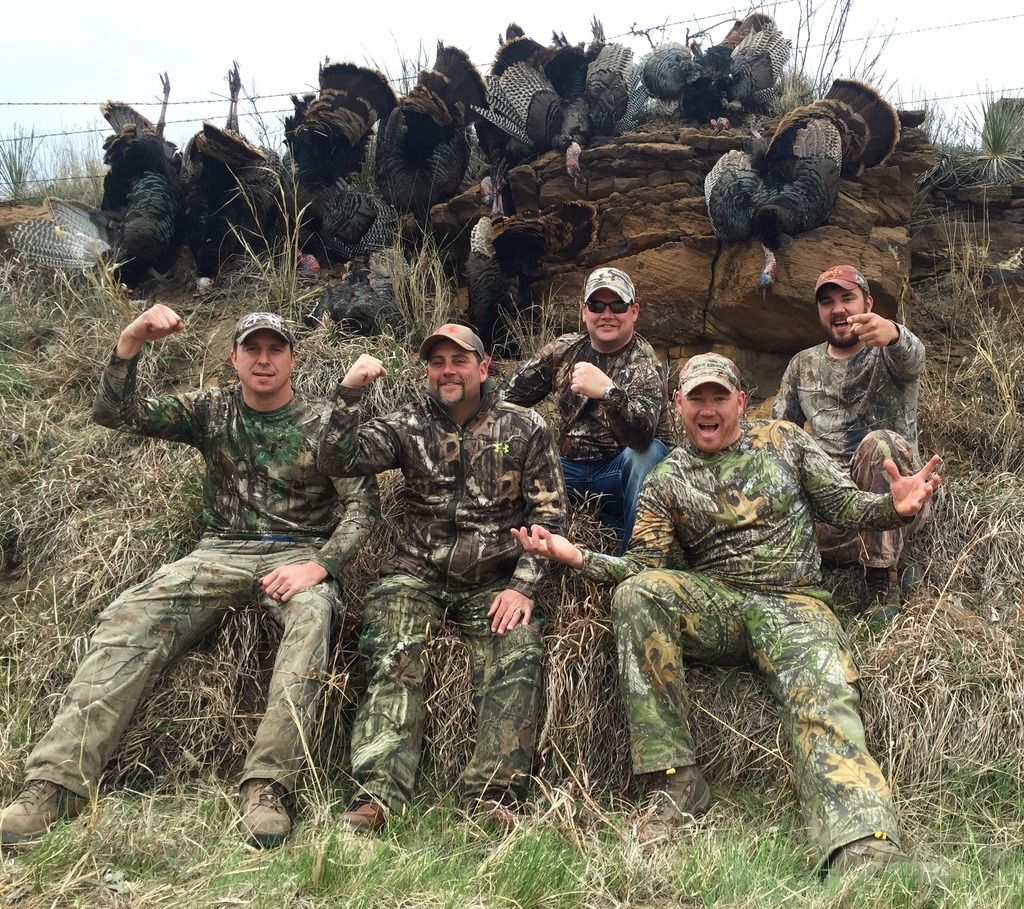 A couple of weeks later I was able to hit the Indiana woods. Unfortunately, I missed the first week of season due to a work trip and after a days recovery from 23hrs in the air I was ready to get back at it. The first day I was surrounded by birds, and had 2 big toms hang up at 60yds and strut for over an hour. Never had this happen in the middle of a pasture, they may hang for a bit but generally one will commit. Anyhow, after having enough at starring at my dekes the Ol Boys turned and went the other direction. I was a bit shocked but enjoyed the show they put on.
The next morning a bit more frustration, with birds all around but nothing wanting to play nice. About 11:00 I looked at my buddy and said we should try a farm that neither of us had stepped foot on that year. We made the mile trek back to one of our favorite areas, a small draw between two cornfields, and as we stood there debating where to setup I hit the mouth call and was answered by a gobble. Again a bit of scramble mode to get the dekes out in a visible spot without being spotted ourselves as the birds sounded fairly close. Once we were settled in I hit a few yelps on the Ghost Make and was answered this time by two birds. A few purrs later and they popped around a corner and when they saw the spread they began the show. We let them strut into the dekes and then proceed to mount and beat the tar out of the whole spread before giving them the 1,2,3......Double Bang. Just like that, Indiana season turned around and was over.
Another nice bird, at 24lbs, 10.5" and 3" double beard and 1" spurs for me. Oh and he got real close!!!!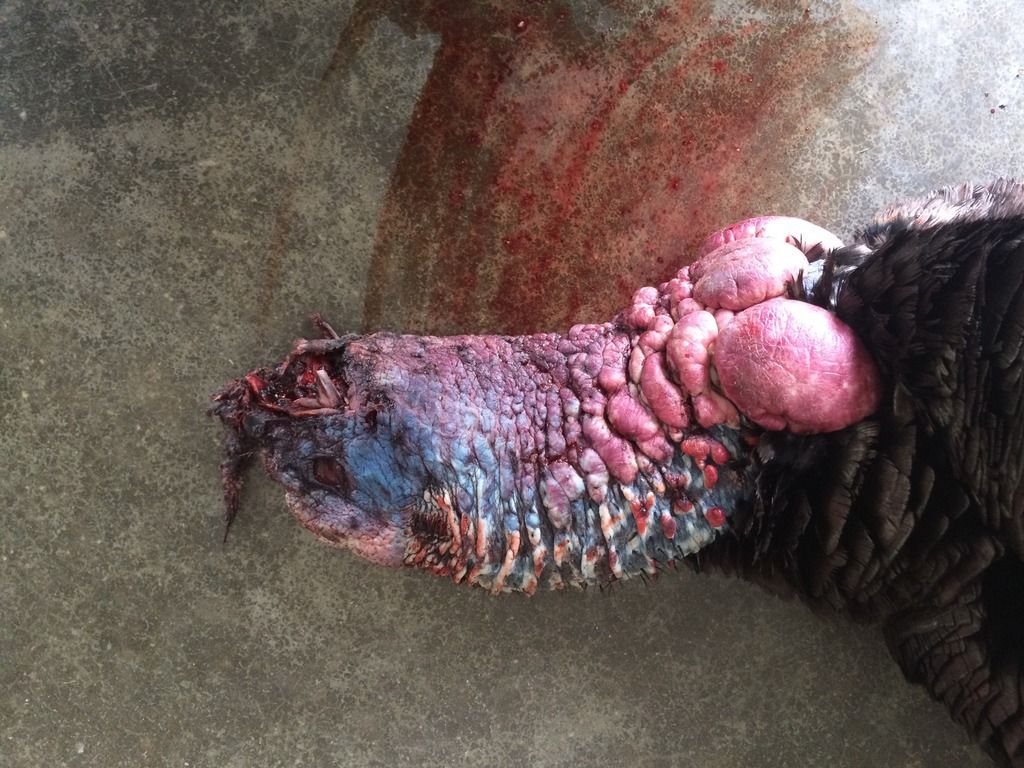 Another fun season. A bit short on the number of days in the timber but I did get out another few times to help some friends fill some tags. Congrats again to all that had a successful season and an extra hats off to those who got kids on birds, I always enjoy reading those stories!!!
Kratz